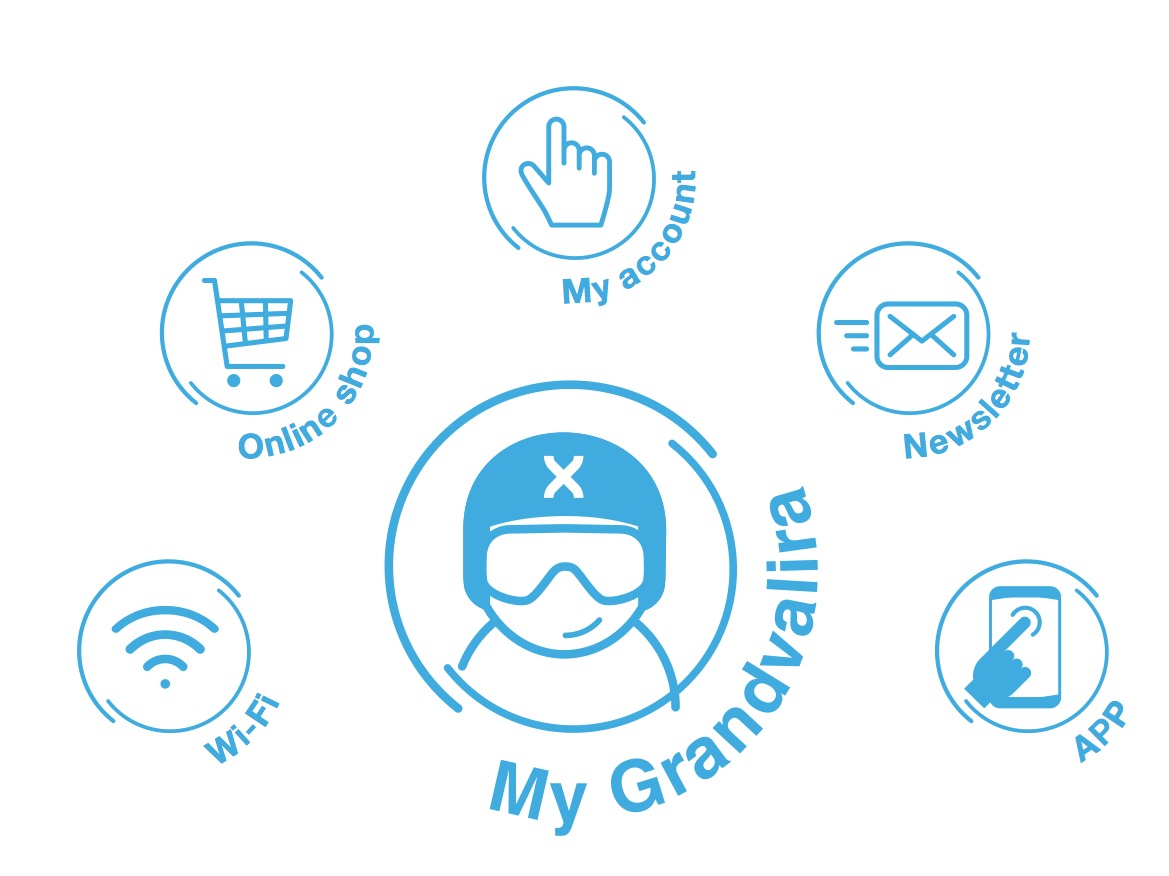 What is My Grandvalira?
My Grandvalira is your unique ID for Grandvalira. Your account includes the email address and password you will use to login. It is important to remember that My Grandvalira is a personal and non-transferable ID, and we therefore recommend that you do not share your username with anyone, as it provides access to all of your personal data and commercial transactions.
Your email address is used to identify your user file, and must be verified. It is important that you always use the same email address, so that we can identify you and help you resolve any incidents that may arise during your stay at our resort.
What is My Grandvalira used for?
Your My Grandvalira username gives you centralised access to all our online services. You can:
Access the resort's Wi-Fi.
Purchase ski passes, skiing lessons, adventure activities, meals, etc. online.
Make use of all of the app's features, such as track registration, promotions, challenges, statistics, rankings, geolocated photos, and more.
Sign up for our newsletter.
View and modify your contact details.
Receive booking and payment confirmations by email.
How do I set up my account?
Setting up an account is quick and easy. All you need to do is submit your personal details and provide a valid email address via any of our online channels:
The resort's Wi-Fi access portal.
The Grandvalira app.
The Fanatics website. The Season Ski Pass.
The newsletter.
If you prefer, you can also set up a My Grandvalira account using your Facebook profile.
How do I know if I already have a My Grandvalira account?
You will already have a My Grandvalira account if you:
Have purchased a Season Ski Pass or Pass Plus+ (whether this season or in previous seasons). Are a Fanatic. From this season onwards, you will also be able to access other features we are in the process of developing.
Have completed an online purchase at any time.
Have signed up for our newsletter.
Have signed up with the Grandvalira app.
Have logged on to the resort's Wi-Fi network.
What happens if I meet two or more of these conditions?
If you used the same email address in each instance, you will already have a unique My Grandvalira account. However, if you used different email addresses, we recommend that you always access the service using the same email address, so that all of your information can be centralised.
When will I use My Grandvalira?
Every time you access one of our online channels you will be asked for your username and password in order to login. At present, the main channels are the online store, the Grandvalira app, the resort's Wi-Fi network, and signing up for our newsletter.